Available: Late April–late June
Wild vegetable (sansai) dishes are food culture from Yamagata that have been continuously handed down through generations
Tamaki's role is to share the local culinary culture of Yamagata that makes the most of wild vegetables.
When the snow on Mt. Gassan in Yamagata begins melting at the mountain skirts around April to July as spring turns to early summer, wild vegetables under the snow send out green, young buds one after another, and the wild vegetable season starts in earnest. These mountain blessings of wild vegetables are carefully picked and prepared in a unique way at Tamaki to serve our diners dishes rich with the aroma of green vegetables. During wild vegetable season, numerous devotees from within and without the prefecture come in search of wild vegetables, the taste of spring in Yamagata.
Meal price list for wild vegetable dishes
Fully appreciate wild vegetable dishes to your heart's content.
Meals require reservations in advance.
Meals for children
We serve meals for children prepared with seasonal foods that include choices popular with children, such as hamburger steak. Please request a child's meal when making a reservation.
Carefully selected wild vegetables and other foods
We carefully select bounty from the mountains such as wild vegetables and mushrooms nurtured by the vast nature of Yamagata, as well as sweetfish, eel, and other foods nourished by the clean, clear water of the Sagae River.
Shiode (greenbriar)

Called the king of wild vegetables, new shoots that have grown just the right amount are tasty, but very difficult to find, so only a small amount is available. It is also called mountain asparagus.

Takenoko (bamboo shoots)

Gassandake, bamboo shoots from Mt. Gassan, have white flesh generously covered with a reddish hue. The valued vegetable has a flavor not found in other regions.

Taranome (Aralia sprout)

This wild vegetable has a unique richness and tender texture unlike other wild vegetables and is very popular.

Warabi (bracken)

This extremely popular wild vegetable regularly appears at dinner tables in Yamagata. Many love its unique slippery texture and flavor.

Koshiabura (Chengiopanax sciadophylloides)

Called the queen of wild vegetables, this prized vegetable takes effort to find even on Mt. Gassan. Eating it as tempura is recommended.

Wild sculpin

A rare treat nurtured in the clear, clean waters of the Sagae River, this fish is served deep fried and grilled with salt.

Takenoko-jiru

This miso soup made with a generous amount of bamboo shoots harvested on Mt. Gassan features the soft flesh of the bamboo and a rich flavor.

Wild sweetfish

Sweetfish are nourished by the clear waters of the Sagae River. A round belly and a clear yellow marking to the side of the gills attests to the fact that the fish was nourished by clear waters. They have the perfect size, flavor, and nutrition.
Accommodating various events
Tamaki can accommodate a variety of events such as the following.
Birthday parties
Reunions
Welcome/farewell parties
Silver/gold wedding anniversary celebrations
Wedding anniversary celebrations
School admission/graduation, employment celebrations
Entertaining/meetings
Longevity celebrations (60th, 70th, 77th, 80th, 81st, 88th, 90th, 99th, 100th)
Sake and beverages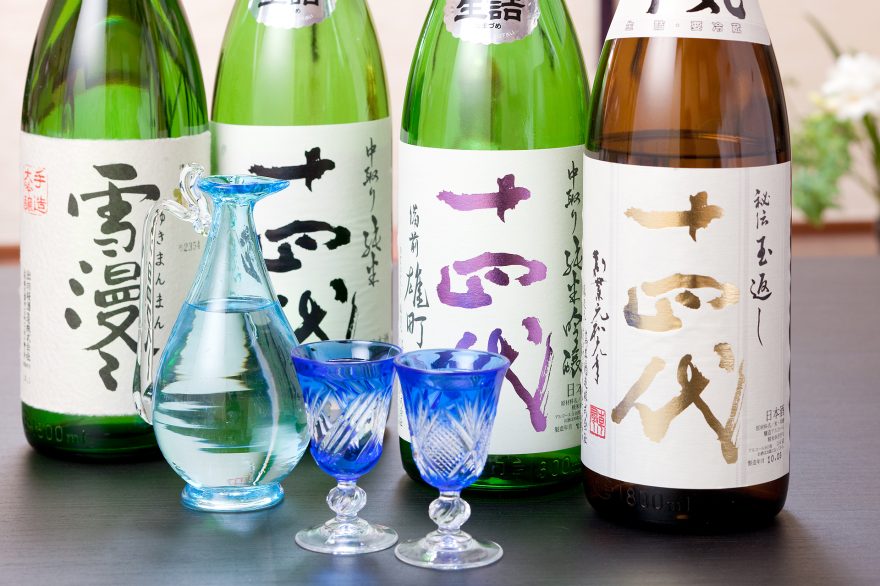 We have an array of beverages, including local sake, local beers, and wine produced in the prefecture. Try our aged Tamaki Original Yamabudo Eki (wild grape wine) as an aperitif to further enhance the flavor of the cuisine.
Takagi Brewery

Juyondai Honmaru, Juyondai Tatsu no Otoshigo

Dewazakura Sake Brewery

Yukimanman Daiginjo, Ichiro Junmai Daiginjo

Gassan Sake Brewery

Hitokoe, Tamaki Original Junmai Sake

Chiyokotobuki Toraya Brewery

Junmai Ginjo, Tamaki Original Shochu

Tamaki Original

Yamabudo Eki, Kokuwashu, Matatabishu, Umeshu, Nanakamadoshu, Mamushishu
*A variety of other beverages are also available in addition to those listed above.