Available: Mid August–late December
The mushroom season arrives together with brilliant autumn colors
Relish the flavors of rare mushrooms nurtured by the nature of Mt. Gassan.
Mushroom season begins around the time the autumn colors appear on Mt. Gassan. At Tamaki, these dishes are second in popularity only to our wild vegetable dishes, and many people come from far and wide in fall just for these seasonal flavors. In addition, since many of Mt. Gassan's mushrooms are rare and generally difficult to acquire, you can eat your fill of amazing flavors not available anywhere else.
Meal price list for Chrysanthemum Festival and mushroom dishes
A generous amount of mushrooms, which are the flavor of fall in Yamagata, are used in dishes rich with the aroma of the mountain.
Meals require reservations in advance.
Meals for children
We serve meals for children prepared with seasonal foods that include choices popular with children, such as hamburger steak. Please request a child's meal when making a reservation.
Carefully selected mushrooms and other foods
We carefully select bounty from the mountains such as wild vegetables and mushrooms nurtured by the vast nature of Yamagata, as well as sweetfish, eel, and other foods nourished by the clean, clear water of the Sagae River.
Hatakeshimeji (fried chicken mushroom)

Like 'honshimeji' (Lyophyllum shimeji), these delicious, firm mushrooms pair perfectly with any food.

Hokitake (cauliflower coral)

As its name implies, this mushroom has a unique shape, but is mild. It is popular and used in dishes such as marinated dishes, simmered dishes, and hot pot dishes.

Senbonshimeji (Lyophyllum fumosum)

These mushrooms are extremely rare and thus of high value as there is a limited number of days they can be harvested. Firm with a good mouthfeel, they are great for a wide range of dishes, including cooked with rice, hot pot dishes, marinated dishes, and soups.

Tobitake (Meripilus giganteus)

This mushroom is the first to be harvested in mushroom season. It is characterized by the fact that it darkens when bruised by touch, cooking, etc.

Various mushrooms

A variety of wild mushrooms are picked locally. The amount harvested depends on the year.

Wild eel

Highly nutritious wild eel are carefully selected and served as one of our meticulously prepared flavors of fall.

Char dried in cold weather

After char is lightly cooked over a charcoal fire, hot sake is poured over it to make sake flavored with grilled fish bone. This eliminates the smell particular to river fish and intensifies the flavor.
Accommodating various events
Tamaki can accommodate a variety of events such as the following.
Birthday parties
Reunions
Welcome/farewell parties
Silver/gold wedding anniversary celebrations
Wedding anniversary celebrations
School admission/graduation, employment celebrations
Entertaining/meetings
Longevity celebrations (60th, 70th, 77th, 80th, 81st, 88th, 90th, 99th, 100th)
Sake and beverages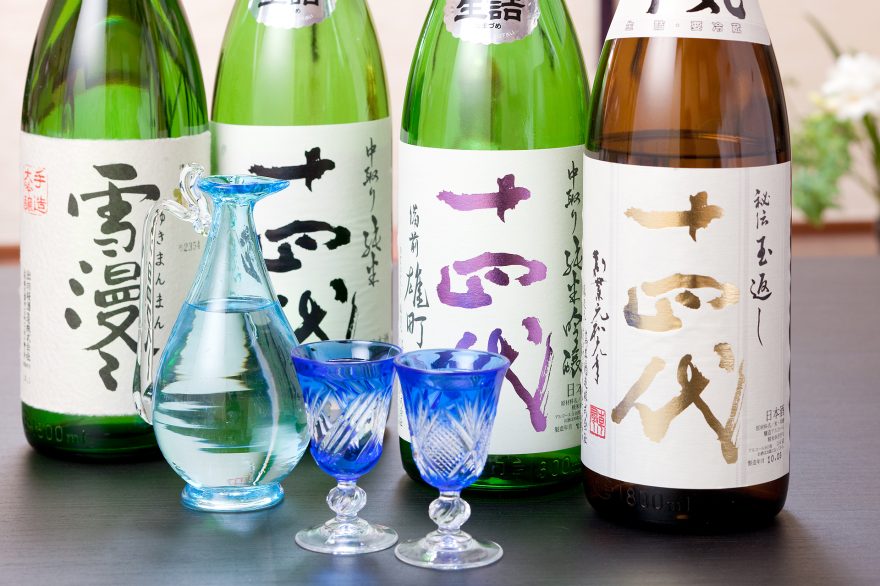 We have an array of beverages, including local sake, local beers, and wine produced in the prefecture. Try our aged Tamaki Original Yamabudo Eki (wild grape wine) as an aperitif to further enhance the flavor of the cuisine.
Takagi Brewery

Juyondai Honmaru, Juyondai Tatsu no Otoshigo

Dewazakura Sake Brewery

Yukimanman Daiginjo, Ichiro Junmai Daiginjo

Gassan Sake Brewery

Hitokoe, Tamaki Original Junmai Sake

Chiyokotobuki Toraya Brewery

Junmai Ginjo, Tamaki Original Shochu

Tamaki Original

Yamabudo Eki, Kokuwashu, Matatabishu, Umeshu, Nanakamadoshu, Mamushishu
*A variety of other beverages are also available in addition to those listed above.